For media inquiries, please contact Darci Tucker, info@conserveyorkcounty.org and/or Tom Chamberlain, tchamberlain7@cox.net.
When the York County Comprehensive Plan Steering Committee decided to discuss what "rural" means (even though their own 1991 Comprehensive Plan already defines Rural Residential), we asked 1,000+ of our followers for their reactions. Here is a small sample of their cogent & compelling replies:
Doug Holroyd
York County already provided an excellent definition in their 1991 Comprehensive Plan:
retention of natural physical features
retention of forest and woodland areas, both along roadways and within developed areas
protection of existing agricultural areas
protection or installation of landscaping and open space in all developments, and
protection or enhancement of open space areas at strategic, highly visible locations throughout the County.
So what's changed? This definition has held true for 30+ years. Seems ok to me.
Tracey Brown
[Rural] means country back roads with NO PAINTED LINES. Sitting on the back deck at night seeing stars, listening to mother nature at its best. Watching horses run through the pastures. Cows grazing! Chickens having a conversation with each other whilst picking the earth of insects and dry corn feed. Fresh smell of cut hay and grass filling our nostrils. THE GOOD LIFE! That's the point of living and enjoying a rural area. Don't destroy our quiet green space! It's what we love. Don't push out what's left of our beautiful wildlife.
Bruce Holmes
[High density development] has be completely rethought in a post-COVID-19 world, where hospital bed-loading metrics take on more importance than water and sewage loading building codes. If we let developers define codes with their 20th Century thinking, we'll get century-old medical security.
Tammy D. Little
Leave us some open spaces to enjoy. I hardly recognize the area anymore.
Barbara Ryba Levine
Rural is where I live now.  Rural is the reason I live where I live now.  Rural is what those of us who chose to live here were looking for.  Rural is where we can share a space with wildlife and maybe wild people!  But there's room for everyone.
Linda Art
Rural is having chickens if you want them.  Rural is quiet hours between 5pm and 9am.  Rural means I do not have to wait 5 minutes for the traffic to clear before I can get out of my driveway or road.
Gary Parks
[Rural is] why we moved here – not wanting house on top of house, seeing your neighbors in their bathroom, or noise levels to the extent you can't hear yourselves think.  We moved here for the solitude of rural life.  The comprehensive plan needs to stay as it is…  This part of the County really doesn't receive all the services like the lower county does – all we really receive is trash pick up, Police coverage and fire coverage, which are all necessary services.  We have basically been on the low end for many years.  Rural is part of that, and that's the way we like it.
Cynthia Reavis
Rural is a pleasurable place to live that is full of trees, wildlife, fields full of crops, pastures with livestock, roads that are free from traffic, and houses with large yards spaced far from each other.  As a matter of fact, this is what I enjoy most when I frequently drive down Fenton Mill Road on my way to Williamsburg. 
The road used to bring me peace – and then they devastated so many acres that I literally cried for the wildlife and what may be coming – and now they want to devastate more of these beautiful woods. This is NOT rural – this is urban sprawl.
Jerry Denion
Rural means not condos, not townhouses, not cluster homes.  It means community but not crowded.  It means an abundance of natural surroundings (whatever nature decides to grow), not little stick trees surrounded by sod and blacktop.  It means streams that are not filled with parking lot run-off and high-density neighborhood debris.
Sarah Fowkes
Rural means quiet, peace and tranquility above all else.  A respite from the fast pace and overwork of modern life.  Rural means productive relationships with neighbors because you aren't on top of each other and therefore aren't bothered by the regular noise of everyday life that others create – because we have the space, both physical and mental – to do what's most important to each of us without too much imposition on our neighbors.  Rural means very little traffic, a slower, more intentional pace of life.  Rural means supporting locally owned businesses to support our local people, rather than developers and huge chain stores and corporations.  Rural means being willing to travel a slightly longer distance to reach those local businesses that we love because we want our homes to be off the beaten path in the quiet and calm, removed from the hustle and bustle.  Rural means more of a connection to local producers and the land – farmers, growers, gardeners, independent makers of home goods and health products – rather than chain stores.   Rural means affordable living.  No untenable inflation of home prices because developers slap up poorly constructed condos and cram people in who don't know the area.  I moved here because it is one of the parts of town that was still affordable with plenty of space.  I have lived in different cities and competed with urban sprawl and loud neighbors for my entire adult life.  Moving here was for the peace and quiet and finally some space to call my own.
Stacy Owens-Zentner
Rural is not living on top of your neighbors, but knowing who they are. Having lots of green grass, no sidewalks. Horses and cows down the road. Seeing farm trucks and farm machinery going up and down the road.
Kelly Hengler
[A developer] needs NOT to be on the Steering Committee in York County.  The boundaries have been blurred regarding existing Communities, Urban Sprawl, Natural Resources and the Virginia Open Space Land Act…  This in an area earmarked for $10M taxpayer support to boost the Historic Triangle as a National treasure and point of tourism Commerce for Virginia…  Stressing local resources, taxpayers, and overbuilding to the point of shifting the entire cultural landscape of York County [is] not a plan that speaks to assurance of Rights of the existing Taxpayers.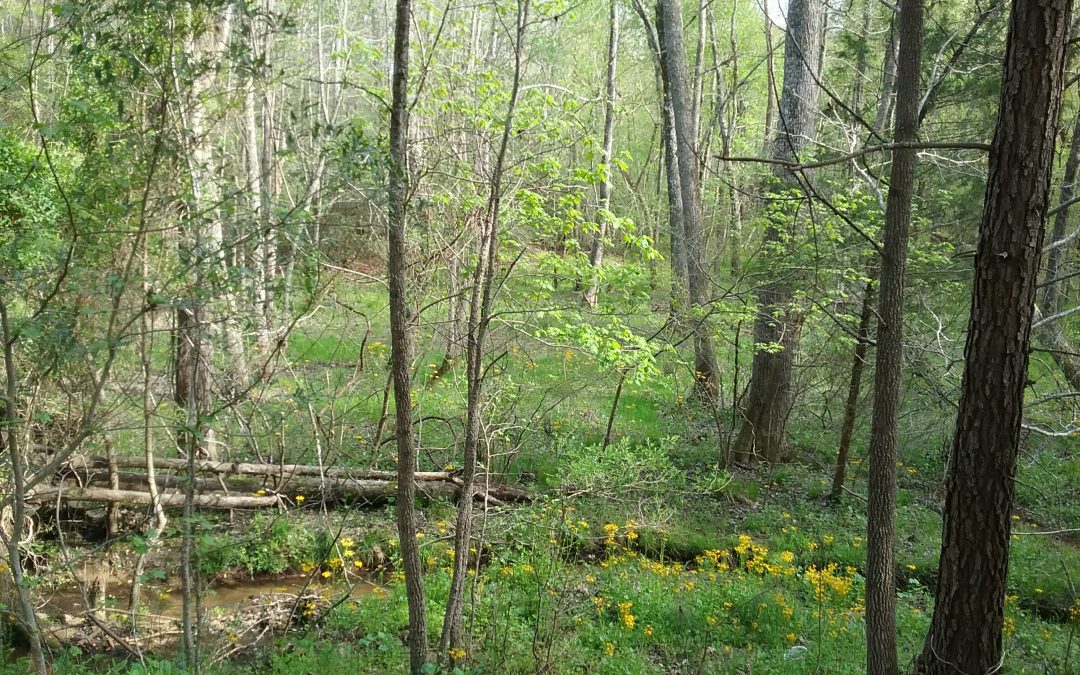 Spring has sprung in our beautiful part of Virginia! Here's a shot of spring foliage and blooms in an Upper County neighborhood that's as beautiful as any state park. It's home to deer, birds and other wild creatures, and provides residents a place for exercise and...
We are excited about our interview on the Mike Powers & Woo Woo Show! Tune in to learn more about the Conserve York County Foundation this Sunday, April 11: 6:00am: Z104 6:30am: 94.9 The Point 7:00am: 95.7 R&B 7:30am: 101.3 2WD...